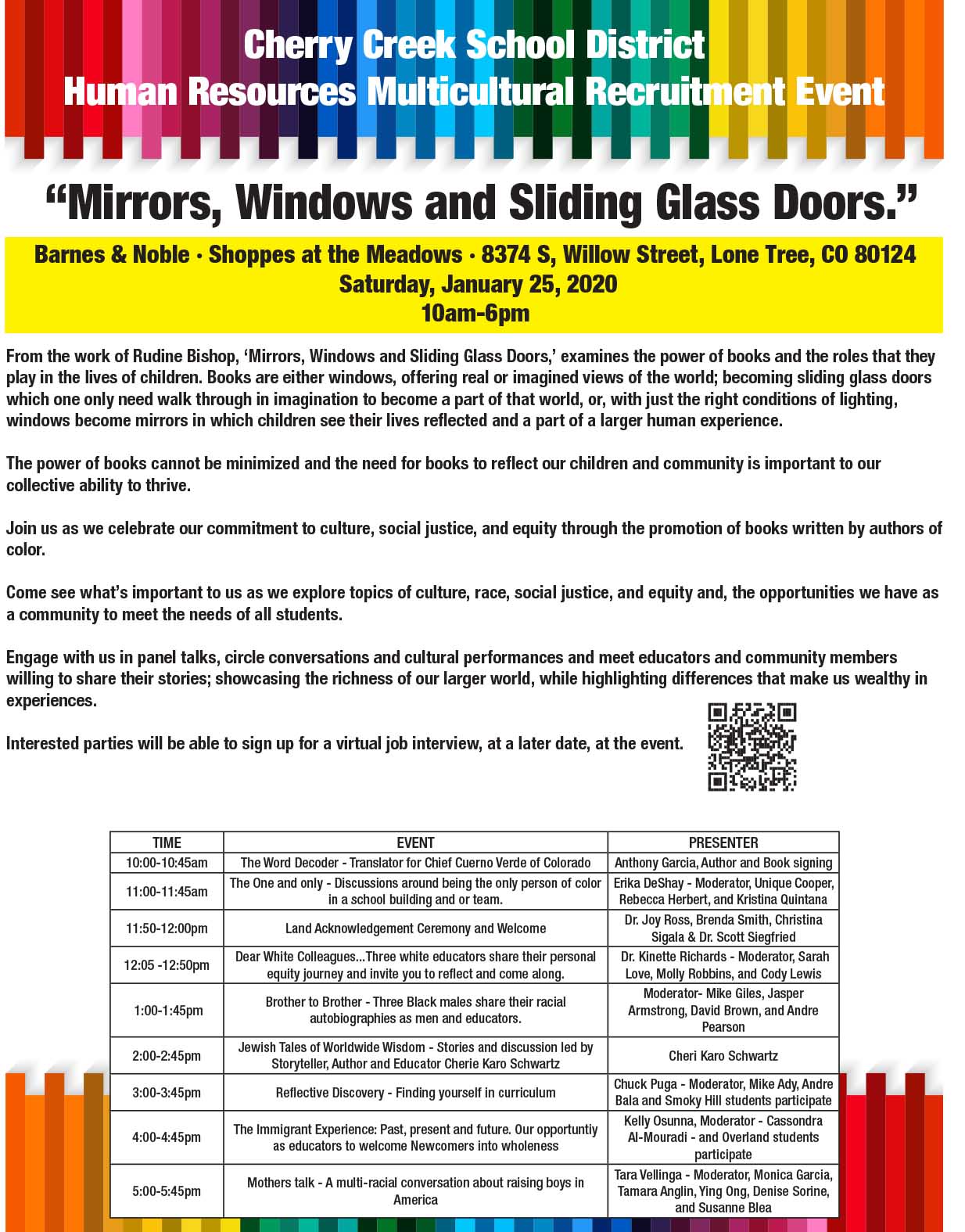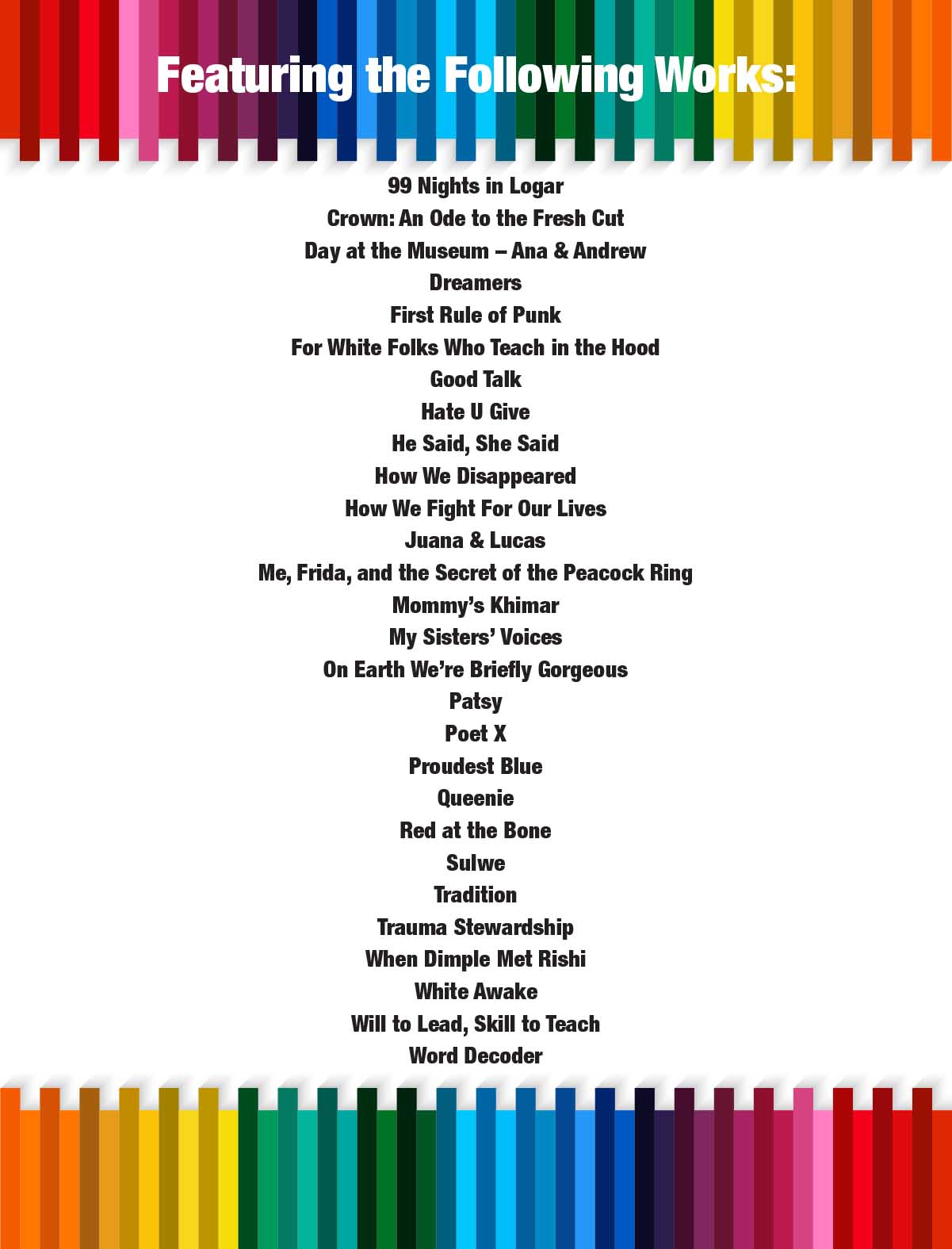 "Mirrors, Windows and Sliding Glass Doors."
January 25
10am to 6pm
LoneTree Barnes and Noble
From the work of Rudine Bishop, 'Mirrors, Windows and Sliding Glass Doors' examines the power of books and the roles that they play in the lives of children. Books are either windows, offering real or imagined views of the world; becoming sliding glass doors which one only need walk through in imagination to become a part of that world, or, with just the right conditions of lighting, windows become mirrors in which children see their lives reflected and a part of a larger human experience.
The power of books can not be minimized and the need for books to reflect our children and community is important to our collective ability to thrive.
Join us as we celebrate our commitment to culture, social justice, and equity through the promotion of books written by authors of color.
Come see what's important to us as we explore topics of culture, race, social justice, and equity and, the opportunities we have as a community to meet the needs of all students.
Engage with us in panel talks, circle conversations and cultural performances and meet educators and community members willing to share their stories; showcasing the richness of our larger world, while highlighting differences that make us wealthy in experiences.
The Word Decoder-Translator for Chief Cuerno Verde of Colorado – Anthony Garcia – Author- 10:00-10:45am
The one and only- Discussions around being the only person of color in a school building and or team." Erika DeShay- Unique Cooper, Rebecca Herbert, Kristina Quintana. 11:00-11:45am
Land acknowledgement ceremony and welcome – 11:50-12:10pm.
Christina Sigala and Superintendent Scott Siegfried
"Dear White Colleague"…Three white educators share their personal equity journey and invite you to reflect and come along. Dr. Kinette Richard's Moderator – Sarah Love, Molly Robbins, Cody Lewis 12:15-12:45pm
"Brother to Brother. "Three Black males share their racial autobiographies as men and educators. – Moderator- Mike Giles, Jasper Armstrong, David Brown , and Andre Pearson 1:00-1:45pm
Ben Lindmann to introduce Jewish Storyteller- Cheri Karo Schwartz- Jewish Tales of Worldwide Wisdom." Stories and discussion led by Storyteller, Author and Educator Cherie Karo Schwartz. 2:00-2:45pm
Reflective Discovery- Finding yourself in curriculum. Chuck Puga, Mike Ady, Andre Bala and Smoky Hill students participate. 3:00-3:45pm
The Immigrant Experience: Past, present and future. Our opportuntiy as educators to welcome Newcomers into wholeness.- Kelly Osunna, Cassondra Al-Mouradi- and Overland students participate 4:00-4:45pm
Mothers talk- A multi-racial conversation about raising boys in America- 5:00-5:45pm Tara Vellinga- Moderator; Monica Garcia, Tamara Anglin, Ying Ong, Denise Sironen, and Susanne Blea,
Cherry Creek School District's Talent Acquisition Multicultural Community Event