Dear Colleagues,
I am pleased to announce that CU Denver has selected Marvin Lynn, PhD, to serve as the university's next dean of the School of Education & Human Development (SEHD). Marvin was selected after a rigorous nationwide search from among a field of extraordinary candidates. He will begin his appointment on July 1, 2022, following in the footsteps of beloved SEHD Dean Rebecca Kantor, EdD, who passed away in April 2021.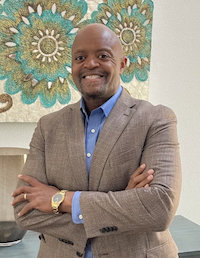 As a committed servant leader, Marvin brings a wealth of personal and professional leadership experience to our campus. Most recently, he served as dean of the College of Education at Portland State University, where he was also tapped by university administrators to help lead campus-wide initiatives and serve on state and national boards and commissions. Prior to Portland State, Marvin was dean of the School of Education at Indiana University-South Bend. In both these urban-serving public universities, Marvin's focus helped inspire renewed emphasis on equity, diversity and inclusion, and strengthened relationships in the community and the state. His ability to engage multiple and diverse stakeholders and craft meaningful strategic plans for his colleges will be key strengths in his role at CU Denver.
In addition to his leadership work, Marvin is a well-regarded and engaged communicator who has been frequently sought by national news media and recognized by professional associations seeking insight on issues of race, education and ethnic studies.
Marvin received his Ph.D. in Social Sciences and Education from UCLA, and earned a master of arts in Curriculum and Teaching from Teachers College-Columbia University and a bachelor of science in Elementary Education from DePaul University. A proud father of three sons, Marvin is also an accomplished vocal artist, and has performed with choirs, opera companies, and symphonies for much of his life.
I express my deep appreciation to members of the search committee for their tireless work to secure such a remarkable candidate, and to members of the SEHD community–faculty, staff, students and alumni –who provided insight and guidance in framing this critically important search. Further, I am especially grateful for Associate Deans Barbara Seidl and Scott Bauer who jointly have led SEHD during this transition period. Their steady hands on the tiller ensured SEHD's momentum has continued unabated.
Marvin's academic expertise and leadership prowess bring added luster to CU Denver and to the School of Education & Human Development. I can't wait to see the progress his leadership will bring. Please join me in welcoming him to the Lynx family.
Sincerely,
Constancio K. Nakuma, PhD
Provost and Executive Vice Chancellor for Academic and Student Affairs
University of Colorado Denver
Office of the Provost, Academic and Student Affairs
1380 Lawrence Street, Suite 1400 | Denver, CO 80204
CU Denver selects Marvin Lynn, PhD to Serve as Dean of the SEHD