Supervisors of University, Classified and Biweekly Staff,
Summer is upon us and with that there is an increase in leave requests for vacations. While we in HR wish you all a wonderful and safe vacation, please keep in mind payroll deadlines that may be occurring in your absence.
Any time you will be out of the office, whether it be for vacation, sick leave, conferences, or any other circumstances, payroll deadlines still need to be met. If you know you will be unable to approve timesheets in your absence, set up a proxy before you leave to ensure your responsibilities will be taken care of in your absence.
Another option, if you will not be hiking to Everest's base camp and know that you will have cell phone service, you can approve your employee's timesheet anywhere you are. When UCD Access was last redesigned, one of the primary reasons was to make the website mobile-friendly, making timesheet approvals on-the-go a breeze.
I will be out of town over a payroll deadline, what do I do?
First, let's talk about deadlines. We process biweekly pay every other week and timelines for approval turnaround are VERY SHORT. Biweekly deadlines are the most critical and time sensitive; not to mention, biweekly timesheets directly affect employee pay.
Monthly timesheets are to be submitted by the 5th of each month and approved by the supervisor by the 10th. If you have not approved all your supervisee timesheets by the 10th and will be out of the office, you will need to take advance action by selecting one of the steps below:
Option 1 – Set up a Proxy

Don't want to worry about work while out of the office? Set up a proxy!
1. Sign into UCD Access
2. Click on the Manager Tile and select "Assign a Proxy"
3. Select "Add a New Value" then enter your Proxy (use the magnifying glass and type their name in the "Description" field), assign a timeframe and select "Apply for all transactions."
That's it!
[Additional step-by-step guide: How to Add A Proxy]
Option 2 – Approve Timesheets Remotely
Don't mind approving timesheets on the go? Follow these instructions!
1. Open a web browser on your phone
2. Sign into UCD Access
3. If you have any leave requests or timesheets in need of approval you will see the red banner alerting you of pending approvals as soon as you sign in: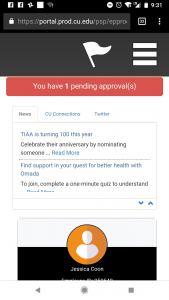 [cell screenshot]
4. Approve requests as usual
Thank you for helping us keep payroll running smoothly in your absence!
Supervisors–Are You Going on a Vacation This Summer? Don't forget this IMPORTANT task.