Four students who are enrolled in CU Denver education programs were selected for the Colorado Department of Higher Education's 2018 Future Educator Honor Roll Ceremony.
The honorees were celebrated during Teacher Appreciation Week at a ceremony in the West Foyer of the Colorado State Capitol on May 2, 2018.
Awardees and CU major/programs included: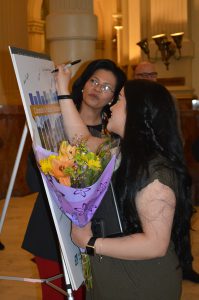 University of Colorado Denver
The following CU Denver faculty members, staff and partners were in attendance to support and congratulate the awardees:
"This ceremony recognizes the tremendous impact our future educators will have on their students and the state of Colorado broadly," said Dr. Kim Hunter Reed, CDHE executive director. "Educators are training the next generation of artists, engineers, scientists and health professionals that will power our economy and enliven our communities. They truly make all other professional possible. We want all teachers and administrators—and especially our young educators—to know Coloradans support and appreciate their invaluable work."
"Making this honor roll is a significant accomplishment," said Lt. Gov. Donna Lane. "You were selected not only for your academic achievement but for your impact around student success. Education is a cornerstone of what we do in our country and here in Colorado…We need smart, creative and dedicated educators in all of our schools."
Short bios for all of the honorees can be found here.
Students in CU Denver Education Programs Receive Awards at State Capitol