Navigation to Annual Leave Certification
Sign into the UCD Access Portal
On the CU Resources page (this may be your home page), click on the NavBar in the top right corner:
Click on CU Resources>My Info and Pay>Annual Leave Certification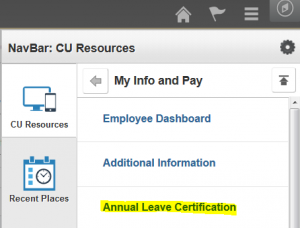 Certify Your Leave Balances
Confirm that the Ending Balances listed match what is in MyLeave (using July's Usable Balance Column) and then click on the "I agree with the Certification & OT eligibility statements" and hit Submit.
**Please review and submit your annual leave certification no later than Monday, July 31.**
Supervisors: How to Approve Annual Leave Certification
Supervisors will receive an automated email from the system with a notification that a supervisee has an Annual Leave Report that needs approval.
To approve a Annual Leave Request:
Sign into the UCD Access Portal
On the CU Resources page (this may be your home page), click on the NavBar in the top right corner:
Click on CU Resources>Manager>Annual Leave Cert Approval

***NOTE: THIS IS DIFFERENT FROM THE MANAGER TILE
Select Approve in the drop-down box next to the employee's name where it shows 'Requested.'
Select Submit/Save, and you're set!